this is how backyard legends are made
FireFly - a revolutionary wireless fireworks firing system. 
Worlds first app-based firing system
FireFly Plus Firing System
$229.00 $279.99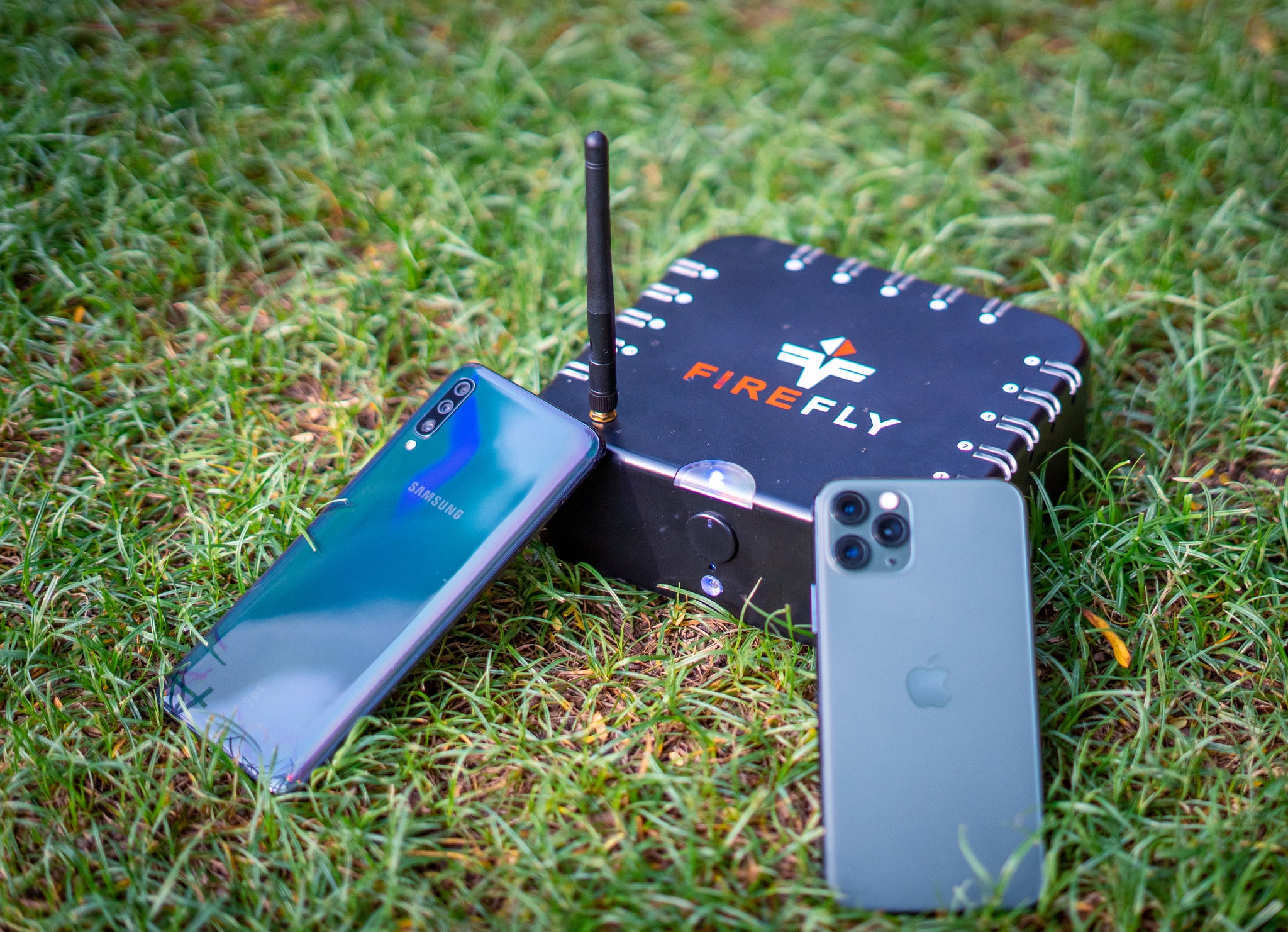 Take control of your fireworks display with the next generation in wireless firing systems.
FireFly Signal range is over a football field (500 ft) and expandable.
WiFi mesh technology allows you to command over 50 systems in the field simultaneously.
Use the FireFly app to design your show with over 750 individual ignitions (with 50 units), or ditch the script and launch your fireworks one by one in Manual Mode. 
Set-up is fast and easy, perfect for any birthday or special event.
What's Included
• 1 Firing module with Antenna
• 8 One-meter reusable connection cables with igniter clips
• 7 Three-meter reusable connection cables with igniter clips
US Pat. 11002520
FireFly Power Plate
$44.99
Brought by customer demand, the new FireFly Power Plate accessory is a rechargeable and convenient add on for any type of firework show. Eliminate the use for heavy-duty batteries and charge the Power Plate before use. Fasten to the base of the unit and receive 1,000 ignitions per charge as well as a 50% stronger and 25% quicker electronic pulse.
Limited supply
More booms per cue
Talon Ignitors (Packs of 20)
$14.99
So you want to light off multiple fuses on the same Titan Clip? Add more boom to each cue using the FireFly talon clips; specially designed for the FireFly! Each pack comes with 20 talon ignitors
Each FireFly Max port can safely handle 2 talons
prefer using talons
FireFly MAX
$169.99 $199.99
Introducing our newest iteration of our award winning FireFly product where we've taken all the features of FireFly and turned it up to the MAX.
Each unit comes with rechargeable batteries included
It is recommended that purchases of the Max are made with our FireFly Talon ignitors. This product is designed to be used with talons and not professional e-match
FireFly Max is compatible and can be used in conjunction with FireFly Plus devices
Have a Bluetooth firefly?
FireFly Upgrade Program
$59.99 $74.99
Upgrade your old Firefly to obtain amazing new capabilities!
Send us your existing Firefly unit and we will replace your circuit board, giving you all the functionality of the new 2020 Firefly.
MAKE SURE TO QUOTE YOUR ORDER # IN YOUR RETURN.
We will upgrade your unit(s) and send back to the address provided in your Order. Turn around time is 1-2 days after receipt of your device.
There may be a slight delay in order processing due to high demand.
Syncs to music.
Take your launch to a new level by syncing your fireworks show to music. FireFly works with your device to import your favorite music straight from your music library.
Easy to set up. Easy to Reuse
Firing systems can be a pain to use with single use ignitors. Not FireFly. Between the app and firing system itself, setting up and designing your ideal show is quick and easy.
Join an Active Community
The FireFly community grows every day! With over 35,000 users in over 31 countries. See shows with just 5 cues to shows with over 100 cues in our facebook community. Get support from other users like you and share ideas!
Shoot with Confidence
FireFly comes with a lifetime warranty with ownership transfer. Regardless of where you buy; you are covered