You're just a click away from a Legendary show.
Purchase the Revolutionary FireFly
You're hosting a celebration and this is no time to be a dud. With FireFly's wireless fireworks firing system, you can launch fireworks straight from your Android™ or Apple® mobile digital device.
Design an entire show, with up to 15 fireworks per unit and sync them to music. Or, take things slower and launch individual fireworks in manual mode. Show your friends and family who you really are – someone with a ridiculous amount of firepower.
Worlds first and only patented mobile firing system with reusable cables
FireFly Plus Firing System
$229.00 $279.99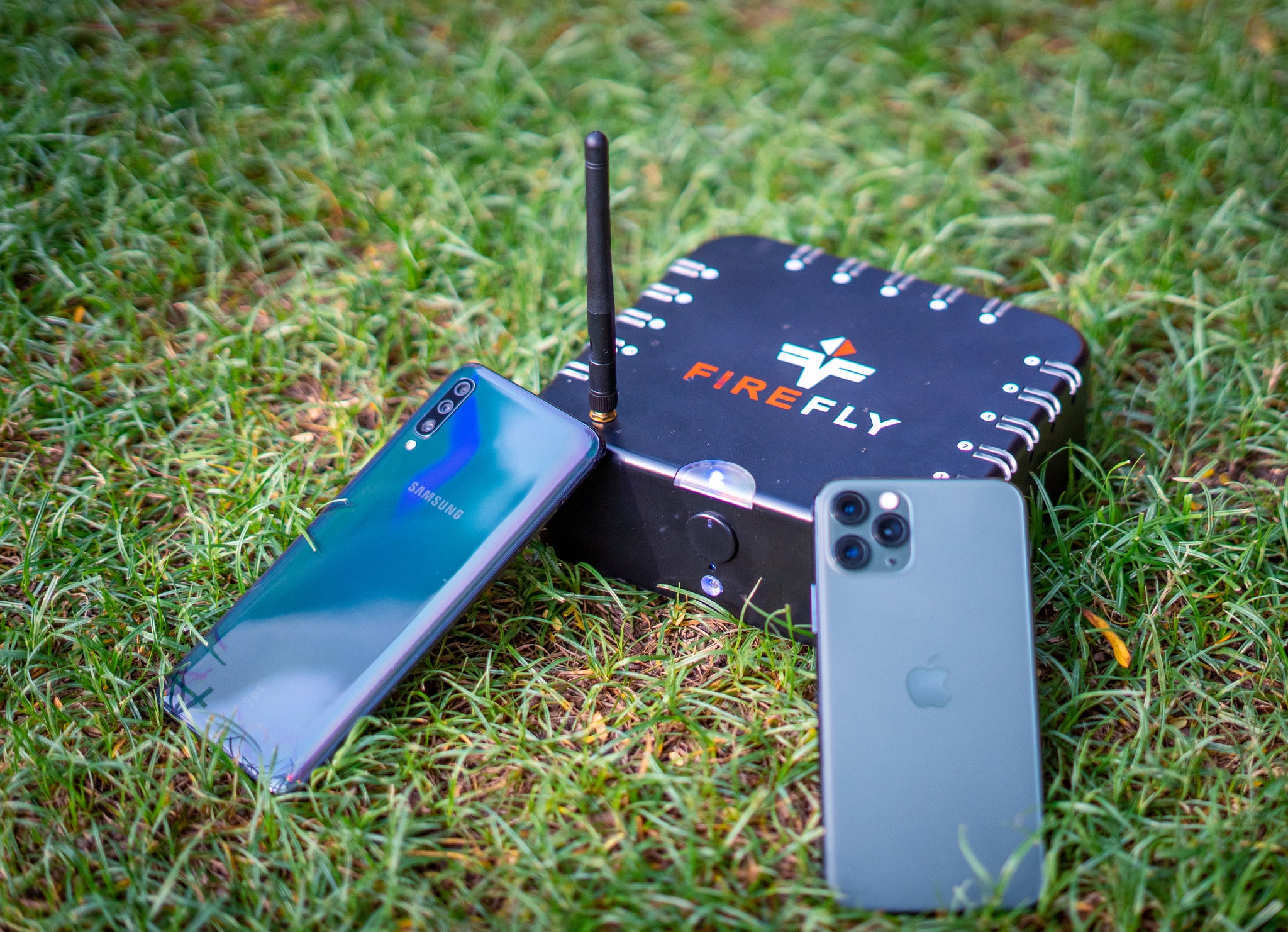 Your next firing system has over 300 ft of range per device.
It can be expanded over 50 times. 
It can be upgraded without wires. 
It works with using a free mobile application.
It has a ridiculous amount of power.
Wires are included and reusable. Why buy single use wires?
What's Included
• 1 Firing module
• 8 One-meter reusable connection cables with igniter clips
• 7 Three-meter reusable connection cables with igniter clips
Technical Specifications
• Module size: W22 cm x L22 cm x H18 cm
• Module Weight: 3.5 pounds (without batteries)
• Module requires the FireFly PowerPlate or 8 D size  Duracell batteries - not included


Output per port: 3.3V 4A - 3-5 Talons or 7-10 E-Matches
FireFly Power Plate
$44.99
Rechargeable battery plate with 50% stronger and 25% quicker electronic pulse. Charge the Power Plate before use, fasten to the base of the unit and begin show setup process.
FireFly Upgrade Program
$59.99 $74.99
Upgrade your current FireFly unit to receive the latest technology features! Send in your unit and we'll upgrade your device. Upgraded units will have extended range, enhanced expandability and wide-ranging device compatibility, including Android™ systems. Send in your system after check-out with your order number.
Ranged increased to over 200 ft.
Power upgrades with regulated discharge and battery level indicators in-app.
Expandable to over 100 units using FireFly Wi-Fi Mesh.
To see additional details, check out the new upgraded 2020 FireFly module here https://shootfirefly.com/pages/product-details
Titan Multi-Clips (Pack of 5)
$19.99
New design, new capabilities.

Powerful, reliable, and adaptable: the Titan Multiclip features a new and improved ignition coil that provides superior power and ensures that your fireworks will launch exactly when you need them to–every time. The robust design holds up incredibly well to repeated use. Used with Talon Igniters (sold separately), you can ignite up to 5 fireworks from a single Clip.
If you need both cables and clips, please ensure you select the length you need. For those that need just the clip, please select Clips Only when ordering.

Lights
- Up to 10 E-Matches
- Up to 2 Talons
Technical Features
Create dynamic shows.
Connect over 50 FireFly units for a total cue count of over 750 cues. 
Set up quickly.
Easy-to-use import jack and intuitive design make setting up FireFly a snap.
Keep on firing.
Connection cables with igniter clips are reusable, unlike other remote-firing systems saving time and money.
Time everything perfectly.
Choose from a continuously updated catalog of preloaded products to automatically calculate fuse and firing time
Have total control.
Fire any consumer-grade fireworks at will in manual mode for full control or design your show and place cues in Show Designer mode.
Have fun. Stay safe.
Equipped with an emergency stop button, FireFly keeps you safe. Wi-Fi firing means that you can launch your show and enjoy from a safe distance.
Safety Tips
Never try to reattach an igniter clip to a fuse while other items are connected or FireFly is on.
When reattaching a fuse, do not stand with your head bent over the firework. Squat down and reattach the fuse with outstretched arms.
Before disconnecting any wires from the module, make sure all items have fired and that Firefly is turned OFF.